William "Billy" Starbeam is the leader of the Red Division of Galaxy Squad. He carries two standard Type-I Blasters.
Appearance
Edit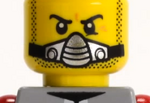 Billy wears a red space suit with grey torso armor, black gloves and a red helmet with a clear visor. He has stubble around his chin, above his mouth and down the sides of his face. Billy's left eye squints slightly. He also makes use of a silver breathing filter, a device effective against Alien infection.
Biography
Edit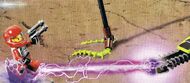 Little is known about Billy's past. He joined Galaxy Squad and became the leader of Red Team following the discovery of Alien forces corrupting and infecting planets in the Selva system. It is possible that he started Red Team's known specialty, that of speed.
Set Appearances
Edit